Profile
Display Attributes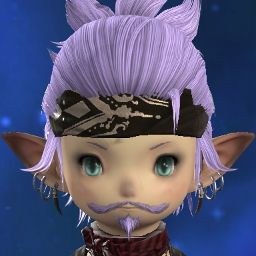 Race/Clan/Gender
Lalafell
Plainsfolk / ♂
Nameday
21st Sun of the 6th Astral Moon
Guardian
Oschon, the Wanderer
Grand Company
Maelstrom / First Storm Lieutenant
Attributes
| | |
| --- | --- |
| Strength | 330 |
| Dexterity | 2707 |
| Vitality | 2807 |
| Intelligence | 255 |
| Mind | 292 |
Offensive Properties
| | |
| --- | --- |
| Critical Hit Rate | 2308 |
| Determination | 1173 |
| Direct Hit Rate | 1357 |
Defensive Properties
| | |
| --- | --- |
| Defense | 2510 |
| Magic Defense | 2510 |
Physical Properties
| | |
| --- | --- |
| Attack Power | 2707 |
| Skill Speed | 701 |
Mental Properties
| | |
| --- | --- |
| Attack Magic Potency | 255 |
| Healing Magic Potency | 292 |
| Spell Speed | 400 |
Role
LEVEL 90
Character Profile
83606620075547a6a5ecdd508677ead2

Once upon a time, Mr. Bobs was a nameless, parentless, crying baby Lalafell who washed up on the bustling shores of Limsa Lominsa. Mistaken for high value property he was scooped up by small time pirates and kept stowed away for some time. They named him Laiyelyn Ardoelyn (because it sounded proper) and trotted him around as an exotic, "Aetherically gifted" Lalafell prince of an Ul'dah Moneytarist.

During a raid orchestrated by Ne'er-do-well, anti-heroes from the Rogue Guild (looking for some priceless artifact that had been wrongfully borrowed), Mr. Bobs was found sobbing in a pile of Pirate rubbish, appearing quite malnourished. The rogues scooped the baby boy up and took him on as their own.

Renamed, Zigzag Bobs for his agility and general ability to get out of a jam, the boy would become useful enough. He sang for the crew at meals, and could pick a pocket in a pinch, but he was wanted property and lived in constant fear. Having grown fond of the potato, the Rogues did what they felt was best, and smuggled him out of the city, sending him yalms on yalms away into the forests of the Black Shroud.

After a spell of odd jobs and tasks in the surrounding villages, Bobs eventually hopped the nearest cart for Gridania, where he would formally bill himself as simply... Adventurer.

And the rest, you've likely heard.