Profile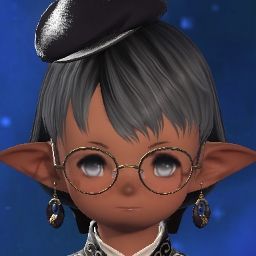 Race/Clan/Gender
Lalafell
Dunesfolk / ♀
Nameday
13th Sun of the 3rd Astral Moon
Guardian
Nymeia, the Spinner
Grand Company
Order of the Twin Adder / Serpent Captain
LEVEL 80
-
-
44
-
50
59
60
8
80
51
14
Character Profile
Enhynae Lutrinae was born with an unusual trait in which her hair began to turn gray at a young age. Her brothers and sisters would tease and mock her for this all throughout her childhood. To combat being called dull and boring she would dress in elaborate and flashy outfits, even going so far as to create new clothes in order to impress her siblings. Enhy began her adventuring days after her eldest sister complemented one of her handmade dresses and told her she should become a professional tailor.

The birthmark on her cheek in the shape of a heart is a mark that is found on all members of the Lutrinae family and is seen as a symbol of compassion, a trait that the family is known for possessing.

Since becoming the Warrior of light, Enhynae has earned the title of Master Weaver and owns a weaving workshop and boutique, Mog Mods Weaving Co., located in The Lavender Beds, Ward 1, Plot 15. She aspires to be a well-known and well-respected name in Eorzean asthestics.