Profile
Display Attributes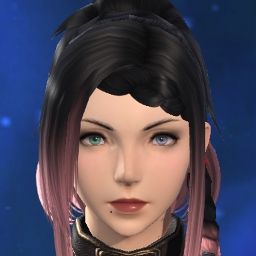 Race/Clan/Gender
Hyur
Midlander / ♀
Nameday
16th Sun of the 4th Astral Moon
Guardian
Halone, the Fury
Grand Company
Order of the Twin Adder / Second Serpent Lieutenant
Attributes
| | |
| --- | --- |
| Strength | 4796 |
| Dexterity | 366 |
| Vitality | 5197 |
| Intelligence | 207 |
| Mind | 169 |
Offensive Properties
| | |
| --- | --- |
| Critical Hit Rate | 2113 |
| Determination | 2143 |
| Direct Hit Rate | 2103 |
Defensive Properties
| | |
| --- | --- |
| Defense | 4385 |
| Magic Defense | 4385 |
Physical Properties
| | |
| --- | --- |
| Attack Power | 4796 |
| Skill Speed | 1460 |
Mental Properties
| | |
| --- | --- |
| Attack Magic Potency | 207 |
| Healing Magic Potency | 169 |
| Spell Speed | 380 |
Role
LEVEL 80
Character Profile
USER CODE: ECU63864VC

A native of Hingashi and born in Bukyo, Y'vyetsca is the daughter of a Hingashi magistrate, and granddaughter to a legendary samurai, Tgyoshi Haseiken. Though she appears human thanks to having a hyur mother, her father was miqo'te, and as a result of her mixed blood, much of Y'vyetsca's upbringing was troubled, to say the least.

Following some terrible event that befell her when she was seventeen, Y'vyetsca left her homeland behind and took to roaming the lands in search of a new purpose.

◦ Y'vyetsca is 32 years old.
◦ She is a cis female, and answers to she/her pronouns.
◦ She generally considers herself pan-romantic, asexual.
◦ She is presently single but was once engaged to be married.
◦ Something happened to her when she was seventeen, but she does not speak of it.
◦ She has a fondness for children, and can often be found chatting or playing with them in her downtime.
◦ At one point, she ran with a Hingashian street gang named Kurohana ("The Black Blossoms").
◦ She has a tattoo on her right shoulder.
◦ She originally learned the art of the blade from her grandfather, who was a legendary samurai.
◦ She never finished her training and is largely self-taught.
◦ Her favorite childhood story is "The Rose of May", a fictional story about a knight who lost her way.
◦ She enjoys embroidery, and commonly 'signs' her needlework with the image of a cherry blossom tree.
◦ She is trained in the practice of several instruments, but she is particularly talented with the guzheng.