Join us for Duty Commenced on August 27!

The next episode of Duty Commenced, the North American Community team's live show, is set for Friday, August 27 and will celebrate the 8th anniversary of FINAL FANTASY XIV with exciting in-game activities and giveaways! We will also be hosting a jump puzzle event in Kugane and fighting alongside (or against!) viewers in Frontline PvP action! Of course, no episode is complete without showcasing the latest segment of Community Commendations.
Who
Aya "Sicycre" Montoya
Danielle "Okieeomi" Grafft
Sam "Voltenyne" Abe
When
Friday, August 27, 2021 at 3:00 p.m. (PDT) / 6:00 p.m. (EDT)
Where
The official FINAL FANTASY XIV Twitch Channel
The Community team will be playing live from the Aether Data Center on the Gilgamesh World!
Giveaways
Tune in for a chance to win one of the following:
One of five Namazu Head plushes
One of five Festival Namazu plushes
One of five Moogle speakers
One of five Tataru figures (Minion Ver.)
One of three Carbuncle Furnishing figure sets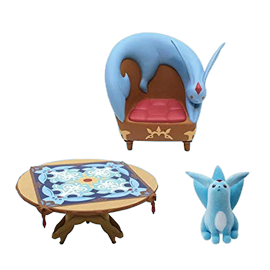 See the official rules for eligibility requirements.
Please note that there may be delays in prize delivery due to ongoing pandemic-related state and local regulations.
Community Commendations

The FINAL FANTASY XIV community is full of talented content creators and artists of every medium, and we're constantly impressed and inspired by the works we see shared across social media. Are you one of these talented creators? Would you like to see your work featured on an official FINAL FANTASY XIV channel? Now's your chance!
We'll be gathering submissions on the official forum and on Twitter, so be sure to read over the full details and submit your entry!