Join us for Duty Commenced Episode 35 on November 22!

Duty Commenced Episode 35 is set for Friday, November 22! Join the North American Community Team as we raid the Copied Factory from YoRHa: Dark Apocalypse alongside viewers and the enigmatic 2P! Should time be on our side, we'll also be tackling the Minstrel's Ballad: Hades's Elegy!

Of course, no episode would be complete without the latest installment of Community Commendations and some fun giveaways. Be sure to tune in!
Who
Aya "Sicycre" Montoya
Danielle "Okieeomi" Grafft
When
Friday, November 22, 2019 at 5:00 p.m. (PST) / 8:00 p.m. (EST) / 1:00 (GMT)
Where
The official FINAL FANTASY XIV Twitch Channel

The Community Team will be playing live from the Aether data center on the Adamantoise World!
Giveaways
Tune in for a chance to win one of the following:
One of ten Yukinko plushes.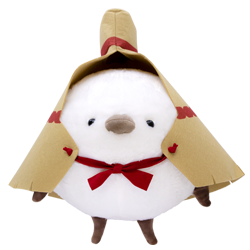 Community Commendations

The FINAL FANTASY XIV community is full of talented content creators and artists of every medium, and we're constantly impressed and inspired by the works we see shared across social media. Are you one of these talented creators? Would you like to see your work featured on an official FINAL FANTASY XIV channel? Now's your chance!

We'll be gathering submissions on the official forum and on Twitter, so be sure to read over the full details and submit your entry!