From Saturday, July 1, 2017 through Saturday, September 30, 2017 at 11:59 p.m. (PDT)
* If you meet the requirements by the end of August, the mount will be sent to you on or after Tuesday, September 5 via the moogle delivery service.
* If you meet the requirements by the end of September, the mount will be sent to you on or after Thursday, October 5 via the moogle delivery service.
Meet each of the following conditions during the campaign period to obtain the Falcon mount:
Purchase and register a copy of FINAL FANTASY XIV: Stormblood.
Subscribe for at least 90 days of play time (excluding free play periods)
The initial free play period included with new product registrations, the free login period from the Callback Campaign, and the free play period granted for moving to New/Preferred Worlds do not count toward the 90 day requirement.
The number of days of subscription time added to your account, excluding free play periods, is how eligibility will be determined. This does not mean that 90 days must have elapsed to be eligible. For example, you can still obtain the mount if you purchase a 90-day subscription period on September 30, 2017.
If you have remaining subscription time that was purchased before the campaign period, or you have an active recurring subscription, we will calculate any remaining game time available as of Saturday, July 1, towards the campaign.
Free Trial accounts are ineligible for the campaign.
Mount:
Falcon
An independent project of Garlond Ironworks engineer Wedge, this single-rider airship allegedly recorded some of the fastest flight speeds ever...until a tragic accident following an attempt to see how high the ship could soar convinced its creator that perhaps a modicum of restraint was necessary.
* Players will be able to ride mounts once they have reached level 20 and have obtained a chocobo.
* The Falcon is a flying mount. Players must fulfill the conditions to fly in an area before being able to use it as a flying mount.
* The Falcon can be used to swim and dive in areas where the required conditions have been met.
* The Falcon will be distributed to all characters on the service account.
Mog Station > Select "Your Account" > Select "View Additional Items" in the "Service Account Status" section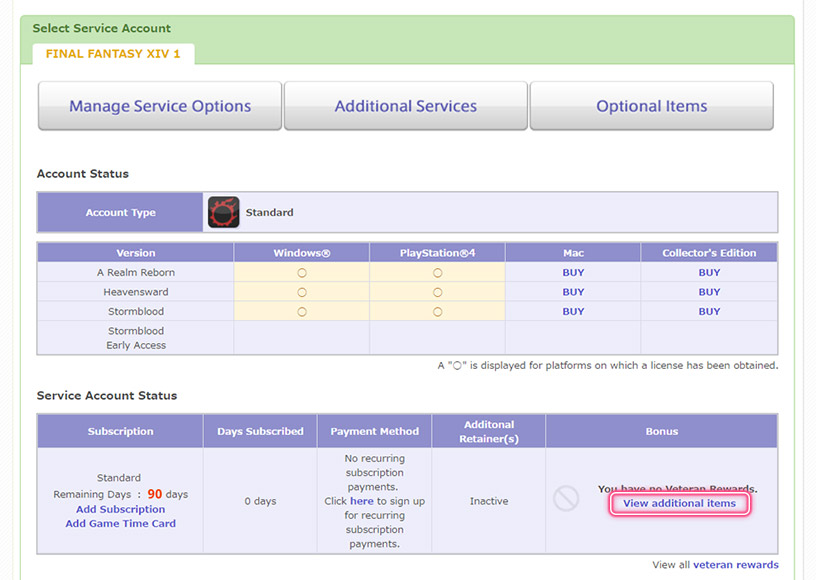 * The item will be added into the "View Additional items" section after the campaign's launch when it becomes available. Please note that it might not be reflected immediately, despite meeting campaign eligibility.
* There is a possibility that the item may become obtainable through other means in the future.