Profile
Display Attributes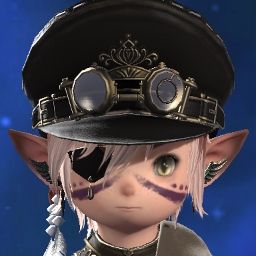 Race/Clan/Gender
Lalafell
Plainsfolk / ♂
Nameday
16th Sun of the 5th Astral Moon
Guardian
Azeyma, the Warden
Grand Company
Order of the Twin Adder / Serpent Captain
Attributes
| | |
| --- | --- |
| Strength | 305 |
| Dexterity | 3819 |
| Vitality | 3841 |
| Intelligence | 291 |
| Mind | 272 |
Offensive Properties
| | |
| --- | --- |
| Critical Hit Rate | 2229 |
| Determination | 2052 |
| Direct Hit Rate | 2241 |
Defensive Properties
| | |
| --- | --- |
| Defense | 4096 |
| Magic Defense | 4096 |
Physical Properties
| | |
| --- | --- |
| Attack Power | 3819 |
| Skill Speed | 1106 |
Mental Properties
| | |
| --- | --- |
| Attack Magic Potency | 291 |
| Healing Magic Potency | 272 |
| Spell Speed | 380 |
Role
LEVEL 80
Character Profile
BRD
ilvl 447
/ WAR
ilvl 437
/ WHM
ilvl 427
Hello
,
I am a casual player with rougthly
2 hours
of playtime per day so I tend to be busy.
I main
Bard
and I am on
UTC+3
I should be in game everyday at 10 a.m PDT and the week-end at 3 a.m PDT.
This character was created in
2015
and has gone through a fantasia once for some small changes. No race or gender changes.
This profile will be update every now and then.
Nice to meet you!
Edit: I won't be suscribed to the game for a few months, I have an exam to prepare for.