Profile
Display Attributes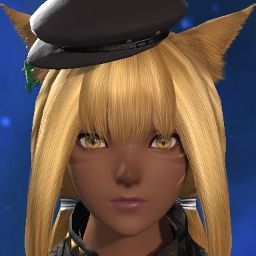 Race/Clan/Gender
Hyur
Midlander / ♀
Nameday
25th Sun of the 2nd Astral Moon
Guardian
Llymlaen, the Navigator
Grand Company
Maelstrom / Storm Captain
Attributes
| | |
| --- | --- |
| Strength | 189 |
| Dexterity | 356 |
| Vitality | 4197 |
| Intelligence | 360 |
| Mind | 4406 |
Offensive Properties
| | |
| --- | --- |
| Critical Hit Rate | 2978 |
| Determination | 2619 |
| Direct Hit Rate | 380 |
Defensive Properties
| | |
| --- | --- |
| Defense | 3174 |
| Magic Defense | 5551 |
Physical Properties
| | |
| --- | --- |
| Attack Power | 189 |
| Skill Speed | 380 |
Mental Properties
| | |
| --- | --- |
| Attack Magic Potency | 4406 |
| Healing Magic Potency | 4406 |
| Spell Speed | 771 |
Role
LEVEL 80
Character Profile
Hi there! I used to be called T'rdaisuke Yayoi - if you're seeing me on a friends list but neither my name nor appearance looks familiar.

Some of my favorite people in game (not a complete list): my static Boku no Alex, my former static Jiffy, the Gold Saucer FC, my friends in The Tabard Cloud where I grew up, everyone in Renko's Party Finder 2.0 Linkshell who taught me how to raid, and my good friends the Tryhard Panties.

Killed before Echo:
Sephirot Ex, A5S, Nidhogg Ex, A6S (8/9/16), Sophia EX (9/30/16), A9S (10/10/16), A10S (10/18/16), A11S (11/15/16), Zurvan Ex (1/22/17), A12S (1/24/17), Lakshmi EX (6/22/17), Susano Ex (6/25/17), O1-4S, (here I took a bit of a break), Seiryu Ex, O9-12S.