Profile
Display Attributes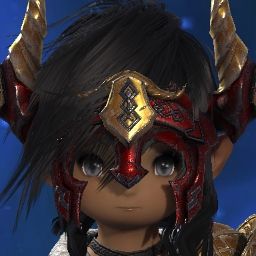 Race/Clan/Gender
Lalafell
Plainsfolk / ♀
Nameday
12th Sun of the 6th Umbral Moon
Guardian
Althyk, the Keeper
Grand Company
Immortal Flames / First Flame Lieutenant
Attributes
| | |
| --- | --- |
| Strength | 2488 |
| Dexterity | 373 |
| Vitality | 2595 |
| Intelligence | 158 |
| Mind | 214 |
Offensive Properties
| | |
| --- | --- |
| Critical Hit Rate | 2043 |
| Determination | 1993 |
| Direct Hit Rate | 400 |
Defensive Properties
| | |
| --- | --- |
| Defense | 4397 |
| Magic Defense | 4397 |
Physical Properties
| | |
| --- | --- |
| Attack Power | 2488 |
| Skill Speed | 513 |
Mental Properties
| | |
| --- | --- |
| Attack Magic Potency | 158 |
| Healing Magic Potency | 214 |
| Spell Speed | 400 |
Role
LEVEL 90
Character Profile
Played FFXIV since its' initial release but stopped when many people left to play other games in a better state.

Then, I returned during beta phase 3 for A Realm Reborn and have been highly active ever since.

I try to find entertainment in all aspects of the game but find myself most drawn to dungeons, trials, and raids.