Profile
Display Attributes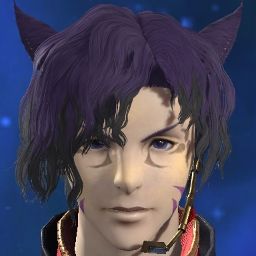 Race/Clan/Gender
Miqo'te
Keeper of the Moon / ♂
Nameday
30th Sun of the 3rd Umbral Moon
Guardian
Menphina, the Lover
Grand Company
Maelstrom / Storm Captain
Attributes
| | |
| --- | --- |
| Strength | 186 |
| Dexterity | 359 |
| Vitality | 4574 |
| Intelligence | 4719 |
| Mind | 377 |
Offensive Properties
| | |
| --- | --- |
| Critical Hit Rate | 2530 |
| Determination | 2505 |
| Direct Hit Rate | 2164 |
Defensive Properties
| | |
| --- | --- |
| Defense | 3264 |
| Magic Defense | 5708 |
Physical Properties
| | |
| --- | --- |
| Attack Power | 186 |
| Skill Speed | 380 |
Mental Properties
| | |
| --- | --- |
| Attack Magic Potency | 4719 |
| Healing Magic Potency | 377 |
| Spell Speed | 1804 |
Role
LEVEL 80
Character Profile
Nice to meet you, Eorzea! I'm a fanfic writer, screenshot aficionado, and sometimes-roleplayer looking for fun, friends, and foolishness. Come visit my Carrd site at
http://raphsdesk.carrd.co
and get to know me better.
Visit my personal estate in the Goblet: Ward 22, Plot 25. The view's pretty good for a low-end plot!
Preferred jobs are RDM/WHM/DNC/PLD/NIN in that order, though I'm willing to play others as needed. I have no experience with synced EX, Savage, or Ult fights but would be willing to learn from a patient teacher. Might dabble in PVP with time.
Writers and RPers are welcome to visit my RP alt on Crystal/Balmung. Jenova is my main home, but I keep one foot on Crystal DC so I can play with others.