Profile
Display Attributes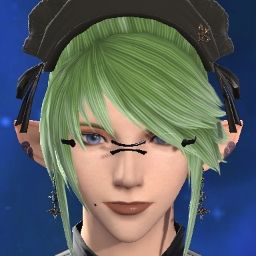 Race/Clan/Gender
Au Ra
Raen / ♀
Nameday
26th Sun of the 5th Umbral Moon
Guardian
Azeyma, the Warden
Grand Company
Maelstrom / Storm Captain
Attributes
| | |
| --- | --- |
| Strength | 305 |
| Dexterity | 342 |
| Vitality | 4530 |
| Intelligence | 357 |
| Mind | 4684 |
Offensive Properties
| | |
| --- | --- |
| Critical Hit Rate | 3129 |
| Determination | 2765 |
| Direct Hit Rate | 380 |
Defensive Properties
| | |
| --- | --- |
| Defense | 3235 |
| Magic Defense | 5658 |
Physical Properties
| | |
| --- | --- |
| Attack Power | 305 |
| Skill Speed | 380 |
Mental Properties
| | |
| --- | --- |
| Attack Magic Potency | 4684 |
| Healing Magic Potency | 4684 |
| Spell Speed | 1340 |
Role
LEVEL 80
Character Profile
fflogs-TVAy4CZvNbdpz8fGgajn3X2kY7wFD6RL
FwvPDgix5Gb6PdTErf4GFph02eh2
References:
Milla - Lord of Spirits
Noihara - Bakeneko, swearing oath to the Amakawa Family
Love anime, games of any variety (especially the occasional visual novel...thanks fuwanovels!). I also love fantasy novels (Drizzt!) and light novels (Sword Art Online and Highschool Dxd in particular).
Yes I am a dude playing a female character. I was planning on making a white mage from the beginning of phase 4 and female casters look so much better than the males so sue me.
I'm more than willing to ramble about anime and games at any time. For now I'll try to keep it FF14 related but I make no promises.