Profile
Display Attributes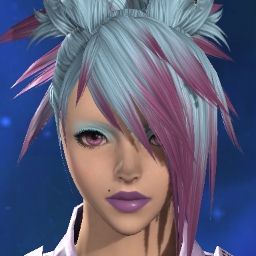 Race/Clan/Gender
Hyur
Midlander / ♀
Nameday
5th Sun of the 3rd Astral Moon
Guardian
Menphina, the Lover
Grand Company
Maelstrom / Second Storm Lieutenant
Attributes
| | |
| --- | --- |
| Strength | 308 |
| Dexterity | 3986 |
| Vitality | 4069 |
| Intelligence | 292 |
| Mind | 271 |
Offensive Properties
| | |
| --- | --- |
| Critical Hit Rate | 2135 |
| Determination | 1753 |
| Direct Hit Rate | 1854 |
Defensive Properties
| | |
| --- | --- |
| Defense | 4158 |
| Magic Defense | 4158 |
Physical Properties
| | |
| --- | --- |
| Attack Power | 3986 |
| Skill Speed | 1141 |
Mental Properties
| | |
| --- | --- |
| Attack Magic Potency | 292 |
| Healing Magic Potency | 271 |
| Spell Speed | 380 |
Role
LEVEL 80
Character Profile
I so far only have 7 Class/Job to 80 and those are Gunbreaker, White Mage, Scholar, Bard, Dancer, Summoner and Red Mage.

Focusing on Main Story while doing Beast Tribe Quests and trying to do mount hunting for the Kamuy's.

Will be working on Blue Mage as soon as I finish the story along with both Lancer and Rogue and then moving on to Thaumaturge aka Black Mage.

I have played every final fantasy and have loved all the classes I have played so far.

I am on everyday so if you see me just say hey as I am on everyday for a few hours.