Profile
Display Attributes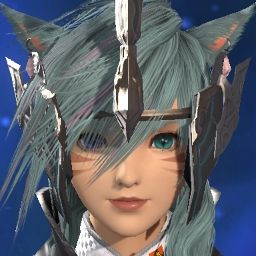 Race/Clan/Gender
Miqo'te
Seeker of the Sun / ♀
Nameday
19th Sun of the 4th Astral Moon
Guardian
Byregot, the Builder
Grand Company
Immortal Flames / Flame Corporal
Attributes
| | |
| --- | --- |
| Strength | 569 |
| Dexterity | 221 |
| Vitality | 570 |
| Intelligence | 120 |
| Mind | 100 |
Offensive Properties
| | |
| --- | --- |
| Critical Hit Rate | 481 |
| Determination | 316 |
| Direct Hit Rate | 484 |
Defensive Properties
| | |
| --- | --- |
| Defense | 447 |
| Magic Defense | 447 |
Physical Properties
| | |
| --- | --- |
| Attack Power | 569 |
| Skill Speed | 439 |
Mental Properties
| | |
| --- | --- |
| Attack Magic Potency | 120 |
| Healing Magic Potency | 100 |
| Spell Speed | 341 |
Role
LEVEL 50
Character Profile
Good moaning! New player here!
I've always been a massive Final Fantasy fan, but didn't start FFXIV due to my committments in WoW!
I've had years of progression experience in WoW, and I now head my own casual guild to play with friends. =3
I'm also a FF Games Collector! I
collect the physical original black label games
!
Going to be casually learning FFXIV for now, so senpais kindly guide me along!
I stream on twitch.tv/melvallous, swing by when you can!