Profile
Display Attributes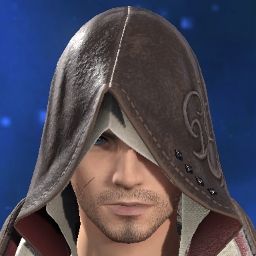 Race/Clan/Gender
Hyur
Midlander / ♂
Nameday
3rd Sun of the 3rd Astral Moon
Guardian
Nymeia, the Spinner
Grand Company
Immortal Flames / First Flame Lieutenant
Attributes
| | |
| --- | --- |
| Strength | 4889 |
| Dexterity | 322 |
| Vitality | 5483 |
| Intelligence | 207 |
| Mind | 135 |
Offensive Properties
| | |
| --- | --- |
| Critical Hit Rate | 2486 |
| Determination | 2058 |
| Direct Hit Rate | 380 |
Defensive Properties
| | |
| --- | --- |
| Defense | 8391 |
| Magic Defense | 8391 |
Physical Properties
| | |
| --- | --- |
| Attack Power | 4889 |
| Skill Speed | 929 |
Mental Properties
| | |
| --- | --- |
| Attack Magic Potency | 207 |
| Healing Magic Potency | 135 |
| Spell Speed | 380 |
Role
LEVEL 80
Character Profile
Role-playing Character
Please feel free to approach in-game for role-play. Newbies and experienced role-players welcome!
Dungeons & Raids
Happy to Tank for anyone who needs it - provided I have access to the dungeon/trial/raid in question!
Free Company
Recently began the Free Company "The Zodiac Covenant," which follows a group of allies, accomplices, and contacts as they interact and explore the world of Eorzea. Rather than portray an in-world organisation, the FC instead represents the ties that these characters have to one another, and provides the players with an easy means of interacting should their characters ever be in a situation/location in which RP is possible.