Profile
Display Attributes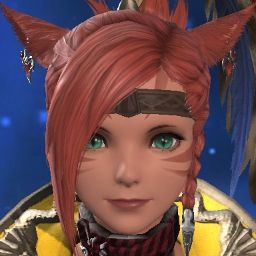 Race/Clan/Gender
Miqo'te
Seeker of the Sun / ♀
Nameday
17th Sun of the 5th Astral Moon
Guardian
Llymlaen, the Navigator
Grand Company
Maelstrom / Second Storm Lieutenant
Attributes
| | |
| --- | --- |
| Strength | 172 |
| Dexterity | 343 |
| Vitality | 4150 |
| Intelligence | 356 |
| Mind | 4366 |
Offensive Properties
| | |
| --- | --- |
| Critical Hit Rate | 2818 |
| Determination | 2148 |
| Direct Hit Rate | 380 |
Defensive Properties
| | |
| --- | --- |
| Defense | 3129 |
| Magic Defense | 5473 |
Physical Properties
| | |
| --- | --- |
| Attack Power | 172 |
| Skill Speed | 380 |
Mental Properties
| | |
| --- | --- |
| Attack Magic Potency | 4366 |
| Healing Magic Potency | 4366 |
| Spell Speed | 1648 |
Role
LEVEL 80
Character Profile
A 29-year-old refugee from Ala Mhigo. An only child who was doted upon by her parents. Her mother was an adventurer from Doma before she settled down and married a man she met on her travels. Luka trained under the tutelage of an old Ala Mhigan general, who taught her self-reliance and how to survive in the wilderness.

Likes: Scions, stars, cake
Dislikes: Gossip, cold weather
Hates: Imperials.

Is easygoing and friendly, but loses control when angered.