Profile
Display Attributes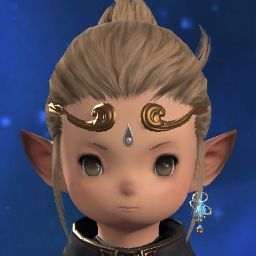 Race/Clan/Gender
Lalafell
Dunesfolk / ♂
Nameday
28th Sun of the 1st Astral Moon
Guardian
Thaliak, the Scholar
Grand Company
Immortal Flames / Flame Captain
Attributes
| | |
| --- | --- |
| Strength | 213 |
| Dexterity | 410 |
| Vitality | 2595 |
| Intelligence | 2751 |
| Mind | 432 |
Offensive Properties
| | |
| --- | --- |
| Critical Hit Rate | 2140 |
| Determination | 1479 |
| Direct Hit Rate | 1245 |
Defensive Properties
| | |
| --- | --- |
| Defense | 1855 |
| Magic Defense | 3242 |
Physical Properties
| | |
| --- | --- |
| Attack Power | 213 |
| Skill Speed | 400 |
Mental Properties
| | |
| --- | --- |
| Attack Magic Potency | 2751 |
| Healing Magic Potency | 432 |
| Spell Speed | 679 |
Role
LEVEL 90
Character Profile
Hi, welcome to my page.

Buttons started out as Tarutaru in Final Fantasy XI on the Caitsith server.

I have played FFXIV since closed beta 2 of 1.0 and Buttons has stayed in the world of Eorzea ever since. I hope to enjoy this game as Buttons the Lalafell for many years more.

Many adventures still await Buttons and PutPut his pet dodo.