Profile
Display Attributes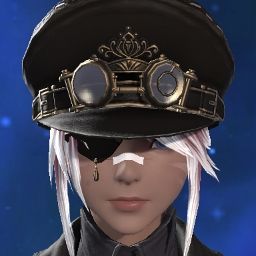 Race/Clan/Gender
Miqo'te
Keeper of the Moon / ♀
Nameday
31st Sun of the 6th Astral Moon
Guardian
Azeyma, the Warden
Grand Company
Maelstrom / Storm Captain
Attributes
| | |
| --- | --- |
| Strength | 3160 |
| Dexterity | 296 |
| Vitality | 3608 |
| Intelligence | 187 |
| Mind | 313 |
Offensive Properties
| | |
| --- | --- |
| Critical Hit Rate | 1212 |
| Determination | 1547 |
| Direct Hit Rate | 684 |
Defensive Properties
| | |
| --- | --- |
| Defense | 5791 |
| Magic Defense | 5791 |
Physical Properties
| | |
| --- | --- |
| Attack Power | 3160 |
| Skill Speed | 1218 |
Mental Properties
| | |
| --- | --- |
| Attack Magic Potency | 187 |
| Healing Magic Potency | 313 |
| Spell Speed | 368 |
Role
LEVEL 74
Character Profile
ECU8451VC
Note:
The name "Neoma" is a combined word that means "New Moon".
My hubby and I decided that we should have our characters with the same last name since this game was, after all, it's a wedding gift from our gamer friends. The last name is a borrowed elvish language from the game dragon age. "Aneth ara" -- a sociable or friendly greeting. Literally: "My safe place".
---
Facebook:
https://www.facebook.com/madcoffee
If you're here just to comment :
go here
---
I roleplay in game once in awhile...
---
Art Commission? check out my site:
http://deenbots.com/
Be a Patron:
https://www.patreon.com/diwa