Announcing the Weapon Design Contest

Artisans of Hydaelyn, we hope you've honed your skill as the time to create has come once again!
This time, your task is not to design attire, nor furnishing, but a weapon of your choice from all currently existing jobs.
To assist the Development team in better implementing your designs, we have prepared templates similar to the ones used by the team when they create, so be sure to use them when submitting entries. As with our previous design contests, the winning entries will be implemented in-game for players to obtain in the future.
Gather your tools, head to the drawing board, and show us your dream designs for the weapons you always wanted to wield for the jobs you love to play!
WEAPON DESIGN CONTEST 2021 (THE "PROMOTION") OFFICIAL RULES
KEY RULES
A. Official Rules: The Official Rules for this Promotion consist of both (i) these key rules summarizing the important rules for participating in the Promotion (the "Key Rules") and (ii) the Additional Promotion Official Rules ("Additional Rules") applicable to your place of legal residence. Please review the Additional Rules at the following URL:
B. Territories: This Promotion is open only to individuals who are legal residents and physically and permanently located in one of the following countries/territories at the date and time of entry (the "Promotion Jurisdiction"):
The fifty (50) states of the United States of America, the District of Columbia, and Puerto Rico.
Canada.
Åland Islands, Albania, Algeria, Andorra, Angola, Australia, Austria, Bahrain, Bangladesh, Belarus, Belgium, Bhutan, Bosnia And Herzegovina, Botswana, Bouvet Island, British Indian Ocean Territory, Brunei Darussalam (Nr. Sri Lanka), Bulgaria, Burundi, Cameroon, Central African Republic, Chad, Christmas Island, Cocos (Keeling) Islands, Comoros, Congo, The Democratic Republic Of The Congo, Cook Islands, Croatia, Cyprus, Czech Republic, Denmark, Djibouti, Egypt, Equatorial Guinea, Eritrea, Estonia, Ethiopia, Faroe Islands, Fiji, Finland, France, French Guiana, French Polynesia, French Southern Territories (South Indian Ocean), Gabon, Georgia, Germany, Gibraltar, Greece, Greenland, Guernsey, Holy See (Vatican City State), Hungary, Iceland, India, Ireland, Isle Of Man, Israel, Italy, Jersey, Jordan, Kazakhstan, Kenya, Kuwait, Kyrgyzstan, Latvia, Lesotho, Liechtenstein, Lithuania, Luxembourg, Republic Of Macedonia, Madagascar, Malawi, Maldives (Sri Lanka), Malta, Mauritania (West Africa), Mauritius, Mayotte, Monaco, Mongolia, Montserrat, Morocco, Mozambique, Namibia, Nepal, Netherlands, New Caledonia (Australasia), New Zealand, Norfolk Island, Norway, Oman, Pakistan, Papua New Guinea, Poland, Portugal, Qatar, Réunion (S. Africa), Romania, Russian Federation, Saint Helena, Samoa, San Marino, Saudi Arabia, Serbia, Seychelles, Slovakia, Slovenia, South Africa, Spain, Swaziland, Sweden, Switzerland, Tajikistan, United Republic Of Tanzania, Timor-Leste, Tokelau, Tonga, Tunisia, Turkey, Turkmenistan, Ukraine, United Arab Emirates, United Kingdom, Yemen, Zambia.
RESIDENTS OF JURISDICTIONS OUTSIDE THE PROMOTION JURISDICTION MAY BE ELIGIBLE TO ENTER THE PROMOTION UNDER RULES APPLICABLE TO THAT JURISDICTION, IF SQUARE ENIX HAS POSTED SUCH RULES.
C. Age Limit: This Promotion is open only to individuals 13 years of age or older at the date and time of entry.
D. Entry Period: You may enter the Promotion only between August 30, 2021 at 1:00 am (PDT) / 8:00 (GMT) / 9:00 (BST) and October 4, 2021 at 7:59 am (PDT) / 14:59 (GMT) / 15:59 (BST) (the "Entry Period").
E. Entry Procedure and Limitations: In order to enter the Promotion, you must complete the following steps during the Entry Period:
Step One:
Create a digital image of a weapon you would like to see implemented in the game for any of the jobs currently available in-game (including blue mage) (each an "Image") that comply with the following requirements (collectively the "Entry"):
You must use the design template provided below.
Design templates are available for each job listed below.


* Black mage / white mage, and summoner / scholar, share templates.

Entries not using the provided design templates will not be eligible.
Using the design template provided, you may use any digital painting software or print and hand-draw to create your design. Hand-drawn creations must be photographed/scanned.
The borders shown in the templates are a reference and designs may slightly exceed the border if necessary.
Image size must be 1920 x 1080 pixels or larger.
Image format must be in .jpg or .png format.
Image must be 3MB or under.
You must include any additional information and/or explanations within the entry Image.


* The development team will assign in-game parameters and stats.

You must submit your Image using the upload feature on the website. Links to third-party image hosting websites will not be accepted.
Please refrain from sharing your artworks publicly until the winners are announced, in order to protect your Entry.
* All Entries must be the original creative work of the entrant submitting the Entry. You may not submit works created by another person.
* You may submit multiple Entries. However, each Entry must be unique and submitted separately.
Design Templates
Click and download the design template for the job of the weapon you would like to enter for.
Step Two:
Submit your Entry via the submission form.
How to Use the Entry Submission Form
1. After visiting the submission form, log in with your Square Enix Account.
2. Enter the required information.
After you log in, the entry submission form will be displayed. Fill out all the required information below:
Category Selection
Character Name
Home World Name
The URL to your Character Profile on Lodestone


(Ex. https://na.finalfantasyxiv.com/lodestone/character/000000/)

Nickname
Entry Title
* Your nickname, and Entry title will be publicly posted alongside your Entry should it be selected.
* Other than instances when you are using your real name for your nickname, please do not include personal information (such as your name or address) in your submission.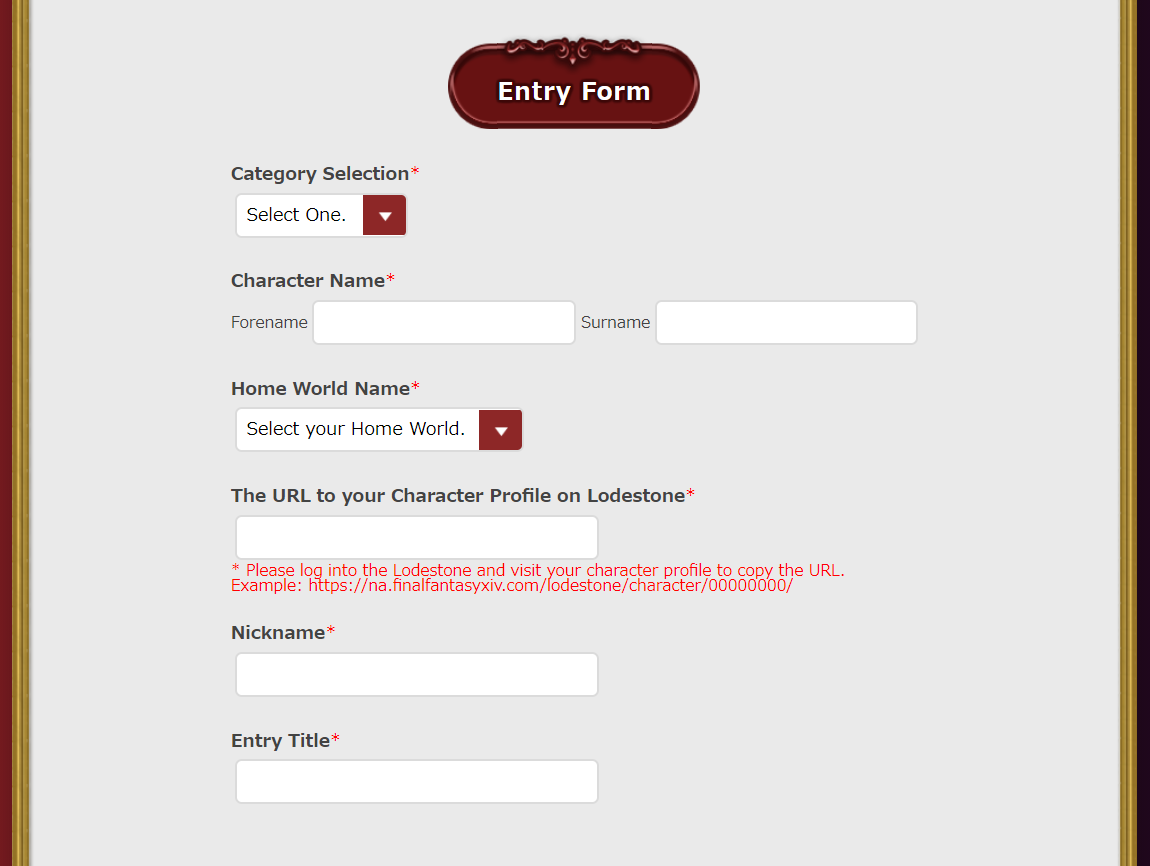 3. Upload your Image.
Submit your Image via the image upload feature.
* Attach the required number of Images depending on the category for your Entry.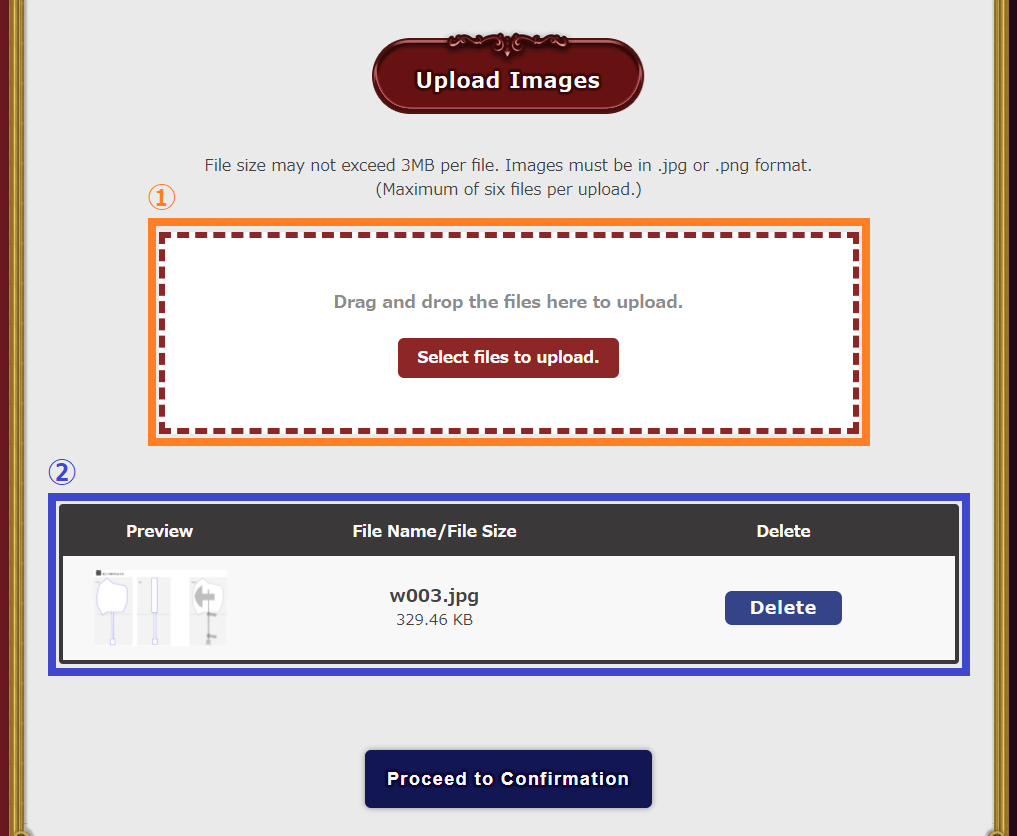 You can either drag and drop your Image into the area indicated by ①, or you can choose the "Select files to upload." button to browse and select an Image file on your computer. You'll be able to confirm the Images you've selected in the area indicated by ②.
Once you've filled out the required information and finished uploading your Images, select "Proceed to Confirmation" to advance.
4. Confirm the details of your submission.
On this screen, you can confirm the information you've entered. Make sure there are no errors in the submitted information and select "Submit Entry" to proceed if there are no errors. If you would like to edit your submitted information, select Edit Entry.
Once you finish submitting your Entry, the following screen will be displayed.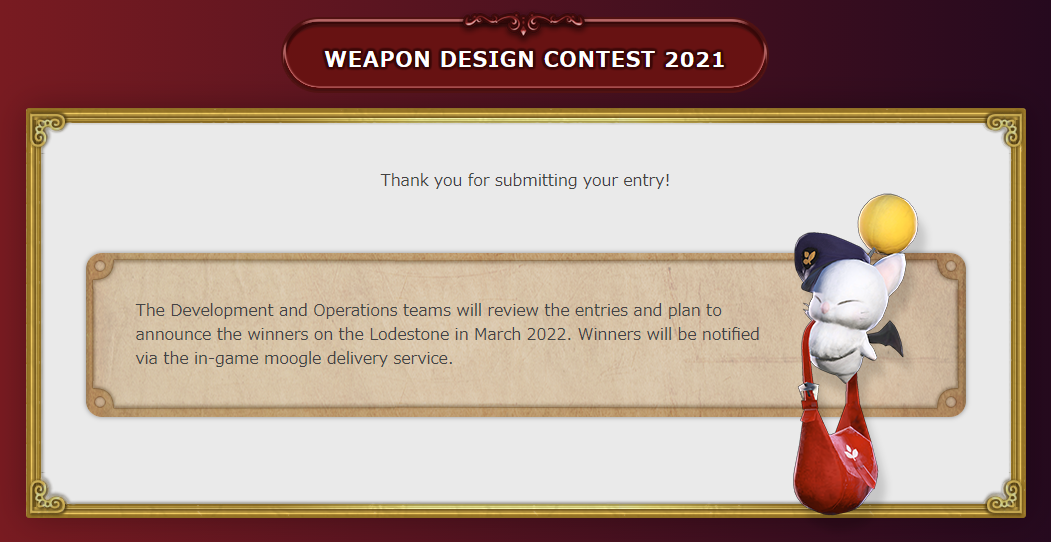 You can log back in to confirm that your Entry has been submitted or to submit additional Entries.
F. Winner Selection: The Sponsor (listed below), or Sponsor's designee, shall select four hundred eighteen (418) finalists from among all entries using the following methodology:
The FINAL FANTASY XIV Development and Operations teams will select the initial list of finalists based on creativity, distinctiveness, originality, and overall execution according to the criteria listed above.
For each of the eighteen (18) categories, the team will select one (1) grand prize winner from each category.
From all categories combined, the team will select one hundred (100) finalists prize winners based on the same criteria.
From all categories combined, the team will select three hundred (300) runners-up prize winners based on the same criteria.
Sponsor shall select the winners on or around March 31, 2022 (PDT) at 999 N. Pacific Coast Highway Blvd., El Segundo, CA 90245, USA (unless pandemic conditions require the selection to take place at alternative locations).
G. Prize(s):
Eighteen (18) grand-prize winners, one (1) from each of the eighteen (18) categories, will have their Entry implemented into FINAL FANTASY XIV, and will receive one (1) Great Paraserpent in-game item.
One hundred (100) entrants who have been qualified as finalists will each receive the following item:
One (1) Great Paraserpent in-game item.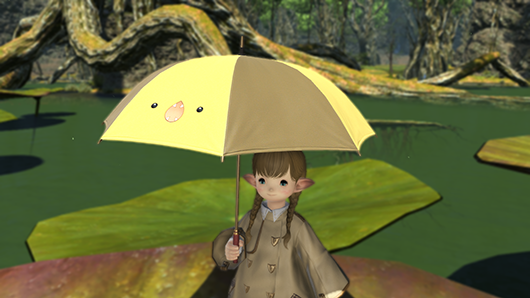 Three hundred (300) entrants who have been qualified as runners-up will each receive the following items:
One (1) in-game item package that consists of one (1) Bluebird Earring, one (1) Scarf of Wondrous Wit, one (1) Mandragora Choker, one (1) Ahriman Choker, one (1) Noble Barding, one (1) Gaelicap, and one (1) Modern Aesthetics - Strife.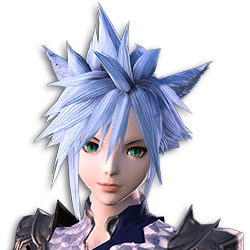 Each prize is a virtual, in-game item with no monetary value. Prizes cannot be sold or transferred.
Sponsor reserves the right to re-distribute any unclaimed prize.
Please note:
The development team may alter the grand-prize-winning designs before implementation.
Sponsor may choose to implement other Entries, in addition to the grand-prize winning Entries, into FINAL FANTASY XIV.
If your Entry is selected to be implemented in-game, we may request additional designs.
H. Winner Notification: Sponsor, or Sponsor's designee, will notify winner(s) on or about April 30, 2022 via the Lodestone website, email and/or in-game via the moogle delivery service to the character specified in the Entry submission.
You will not be able to receive the prize if your moogle letter box is full, or the number of attached items has reached their maximum. Please delete old letters, or accept any attached items, to ensure you can receive the rewards smoothly.
I. Sponsor: The sponsor of this Promotion is Square Enix, Inc.
By entering the Promotion, you agree to be bound and abide by these Key Rules and the Additional Rules applicable to your place of legal residence, and you represent that you satisfy all eligibility requirements to enter the Promotion.
NO PURCHASE OR PAYMENT OF ANY KIND IS NECESSARY TO ENTER OR WIN THIS PROMOTION. A PURCHASE OR PAYMENT OF ANY KIND WILL NOT INCREASE YOUR CHANCES OF WINNING. YOU MUST HAVE LEGALLY ACQUIRED ACCESS TO FINAL FANTASY XIV: Stormblood OR Shadowbringers PRIOR TO THE LAUNCH OF THE PROMOTION.
KEY RULES POSTED ON AUGUST 30, 2021.