Game Better with Butterfinger® and Score the Chocorpokkur Mount

FINAL FANTASY XIV and Butterfinger are partnering to offer Warriors of Light a chance to satisfy their sweet tooth while earning the adorable Chocorpokkur mount! For a limited time, purchase at least $5 of qualifying Butterfinger products, snap a photo of your receipt, and score a chocolatey new mount.
How to Participate
Spend $5 on qualifying Butterfinger products and submit a photo or screenshot of your receipt using the promotion website.

Visit the Game with Butterfinger website for details and full terms and conditions.
Campaign Reward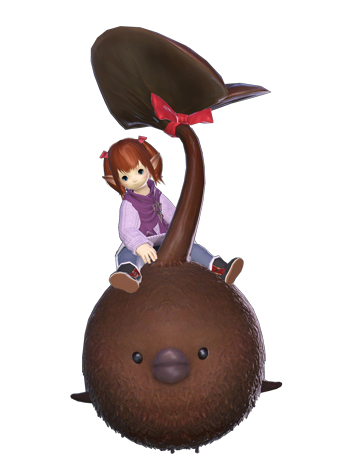 Redeeming Your Item Code
Log into the FINAL FANTASY XIV: Mog Station with your Square Enix account.
Select the "Your Account" menu from the top of the screen. If you have multiple service accounts (represented as tabs), please select the service account you wish to redeem your code on.
Select "Enter Item Code," then follow the on-screen instructions to redeem your code.
Item Code Details
A service account for FINAL FANTASY XIV must be registered to your Square Enix account in order to use this item code. This code cannot be redeemed on a Free Trial account.
The item will be distributed to a single character of your choice on a selected service account.
The item code can only be redeemed once.
Once registered, this item code cannot be removed from your service account.
Please do not lose this item code, as a replacement code cannot be issued.
The transfer or sale of this item code by any means is strictly prohibited.
It may be possible to obtain this item via other means in the future.
The item code does not expire. Notwithstanding the foregoing, Square Enix reserves the right to establish an expiration date for these item codes by providing advance notice via appropriate channels.