Beast Tribe Quests Preview
---

The beast tribes are not always what they appear, and in today's patch 3.1 preview, you'll get a peek at a new quest series that will change the way you think about the Vanu Vanu.
Vanu Vanu Beast Tribe Quests
The Vundu tribe, having summoned the primal Bismarck, wasted no time in establishing dominance over other Vanu Vanu tribes and claiming the Sea of Clouds as their own. The peaceful Zundu tribe continue to oppose their tyranny, however, and now seek the aid of an adventurer to help their people.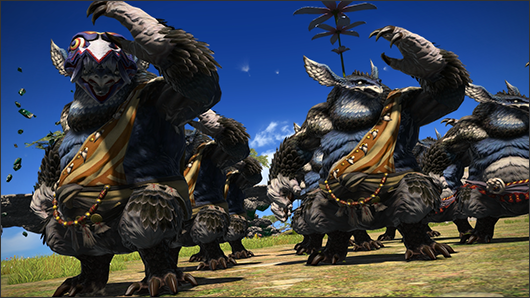 After unlocking the beast tribe daily quests, players will be able to undertake several quests which change on a daily basis. By completing them, players can improve their reputation with the Vanu Vanu. At certain milestones, you will be given the opportunity to undertake main beast tribe quests, which are episodic quests that provide insight into the lives of the Vanu Vanu.
By completing daily beast tribe quests and raising your reputation, you will be able to purchase various items such as furnishings, minions, and mounts.