Join us for Duty Commenced Episode 19 on December 20th

Duty Commenced Episode 19 is set for Wednesday, December 20th! Join the North American Community team as they discuss the latest Letter from the Producer LIVE and Patch 4.2! You also won't want to miss another installment of Community Commendations where the amazing talent of the community will be on display. The team will also be having a special holiday-themed giveaway for viewers!
Who
Matt "Bayohne" Hilton
Aya "Sicycre" Montoya
Chenin "Luxpheras" Matthews
Tony "Zhexos" Caraway
When
Wednesday, December 20, 2017 at 3:00 p.m. (PST) / 6:00 p.m. (EST) / 23:00 (GMT)
Where
The official FINAL FANTASY XIV Twitch Channel
Community Commendations

The FINAL FANTASY XIV community is full of talented content creators and artists of every medium, and we're constantly impressed and inspired by the works we see shared across social media. Are you one of these talented creators? Would you like to see your work featured on an official FINAL FANTASY XIV channel? Now's your chance!

We'll be gathering submissions on the official forum and on Twitter, so be sure to read over the full details and submit your entry!
Giveaways
We'll also be giving away five Fat Chocobo (Winter version) plushes just in time for the Starlight Celebration!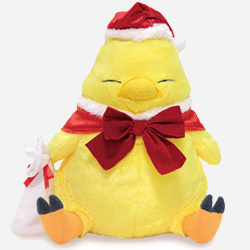 We'll also choose five winners to receive (super comfortable) finger cursor plushes! Perfect to keep your hands warm!