The FINAL FANTASY XIV Shadowbringers Two-Player Starter Set is now available!

The Shadowbringers Two-Player Starter Set for the FINAL FANTASY Trading Card Game is now available for purchase! Featuring the familiar faces of the Scions of the Seventh Dawn, as well as formidable foes from "Shadowbringers", this set contains two decks ready for battle right out of the box!

Appealing to players and collectors alike, this expertly crafted card game perfectly emulates character abilities from the game and offers endless replayability! Enjoy the stunning visuals of the high-quality cards, as well as premium, full-art variants of fan favourites such as the Crystal Exarch and Emet-Selch!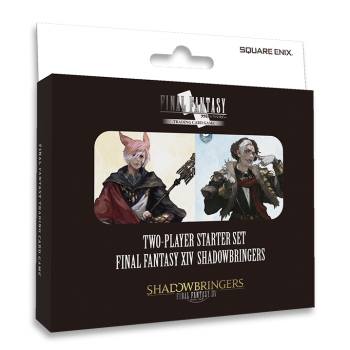 This Starter Set contains two pre-built decks of 50 cards, with 10 brand new characters! The two decks in this set contain Earth/Lightning cards starring Scions such as Thancred and Urianger, and Fire/Ice cards that feature fearsome enemies as seen in "Shadowbringers". With this Two-Player Starter Set, you will have everything you need to jump right into battle!
The set is available for purchase on the Square Enix Store.