Crafting and Gathering Preview (03/18/2014)
---

Today's patch 2.2 preview offers a look at the new challenges awaiting Eorzea's crafters and gatherers.
Patch 2.2 will introduce a host of new recipes for crafters of all skill levels, including both traditional recipes and new recipes which will test even the talents of the most accomplished artisans.


Among the new recipes introduced with patch 2.2, a special set of recipes for each class may be learned only from master recipe books. Comprehensible only to level 50 crafters, the recipes held within will demand much and more of Eorzea's veteran artisans.
Players will have access to crafting facilities in their estates. With eight types in total, these facilities can be used by crafters level 40 or below to increase their CP for a fixed period of time.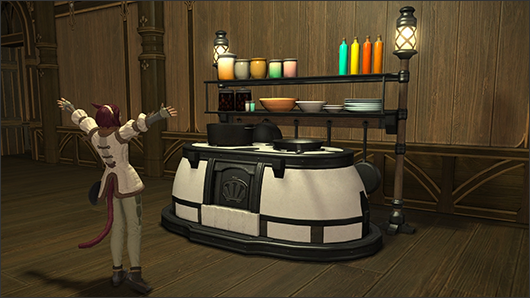 After completing the quest "Just Tooling Around," players can speak with Talan in Revenant's Toll (X:22, Y:6) to receive a new main hand tool in exchange for goods crafted or materials gathered.
Miners and botanists foraging for raw materials will find new resources for the taking in the following areas:
Western Thanalan - Nophica's Well
Unspoiled Mineral Deposit
Lower La Noscea/Central Thanalan/Northern Thanalan
Middle La Noscea/Western Thanalan/South Shroud
Middle La Noscea/Upper La Noscea/North Shroud
Unspoiled Lush Vegetation Patch
Western La Noscea/Lower La Noscea/Central Shroud
Fishers of surpassing skill can try their hand at reeling in impressive denizens of the deep once thought to be mere legend, earning an array of achievements in the process. Do you have what it takes to stake your claim as one of Eorzea's master anglers?