Profile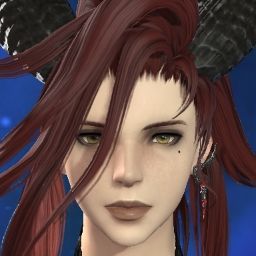 Race/Clan/Gender
Hyur
Highlander / ♀
Nameday
21st Sun of the 2nd Astral Moon
Guardian
Menphina, the Lover
Grand Company
Maelstrom / First Storm Lieutenant
LEVEL 66
8
80
63
52
60
38
80
28
64
53
1
Character Profile
RP Orientated. Hopeless Romantic. AFK Queen.
Relationship Status:
Single
Affection Reciprocation:
She is shy at first, but can and will be very flirty once she opens up.
Personality:
She has a massive heart and is very caring. She tends to adopt people in a motherly sense and loves easily. She's too forgiving and too nice for her own good. She is very sarcastic, and loves to "pick and tease" on her friends. However, mess with someone she loves and she will not refrain to kill.
Backstory Summary (PG Version):
Taken as a child from her mother and home Gyr Albania, she was forced into slave labor for years to come. Breaking free from her captors, she fled to Gridania where she made her coin through mercenary "blood money". Falling into love and fleeing from the love of her life after he tried to kill her, she and her closest friends moved to Ul'Dah where they established "The Wandering Namazu". However, things weren't always perfect between the friends. As their business grew, so apart did they. Eris Re-married to a friend of hers who saved her life on multiple occasions. Alongside him, she rejoined the mercenary life and co-lead a band of mercenaries beside him. Things weren't so perfect in the new marriage. Heartbroken and betrayed once more due to an infidelity, a once again broken Eris threw her ring away. She solo-established "Dragon's Oath". A place of kinship for those who are searching, where she continues her story today. Will she ever find love who will not betray her? How many people has she killed? The world may never know.