Profile
Display Attributes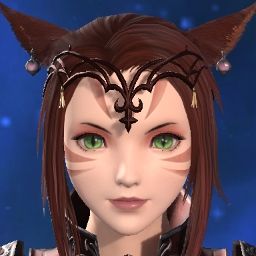 Race/Clan/Gender
Miqo'te
Seeker of the Sun / ♀
Nameday
5th Sun of the 3rd Astral Moon
Guardian
Menphina, the Lover
Grand Company
Order of the Twin Adder / Serpent Captain
Attributes
| | |
| --- | --- |
| Strength | 4697 |
| Dexterity | 326 |
| Vitality | 5230 |
| Intelligence | 203 |
| Mind | 339 |
Offensive Properties
| | |
| --- | --- |
| Critical Hit Rate | 2030 |
| Determination | 2345 |
| Direct Hit Rate | 380 |
Defensive Properties
| | |
| --- | --- |
| Defense | 8258 |
| Magic Defense | 8258 |
Physical Properties
| | |
| --- | --- |
| Attack Power | 4697 |
| Skill Speed | 2330 |
Mental Properties
| | |
| --- | --- |
| Attack Magic Potency | 203 |
| Healing Magic Potency | 339 |
| Spell Speed | 380 |
Role
LEVEL 80
Character Profile
Nothing to see here today, just a pet cat lazing around waiting for its master.
Private house when master is away... Mist Ward 10, Plot 6 (Bring lots of gil and protection)
[12:05 p.m.]((Zela Vixxen)) i'd bitch less if everyone stfu from the start and just did as I said the first time
[12:06 p.m.]((Yuki KurumizawaMalboro)) what fun is that?
If I see anything I have crafted re-listed, you better bet I'll flood the market and crash the prices many times below what you purchased them for. Was it an accidental purchase? That is fine, I will buy it back off you for what you paid.
Savage Raiding...
Its just like a FWB relationship, get the mild initial endorphin high & fake the orgasm. That's the maximum depth. No commitment, cancel any time. I rather skip the faking and just buy 24 packs of AA batteries off Amazon and not risk an STD.
Granted FWB relationships can have real legitimate orgasms, however that creates a shift and emotional attachment that crosses the line, the other isn't willing to cross.
I'll keep my memories of invested progression raiding from the past thank you.