Profile
Display Attributes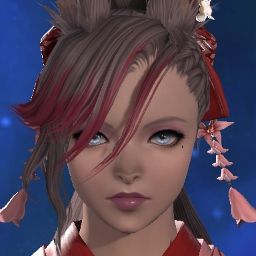 Race/Clan/Gender
Viera
Veena / ♀
Nameday
17th Sun of the 4th Umbral Moon
Guardian
Azeyma, the Warden
Grand Company
Order of the Twin Adder / Second Serpent Lieutenant
Attributes
| | |
| --- | --- |
| Strength | 3911 |
| Dexterity | 367 |
| Vitality | 3992 |
| Intelligence | 207 |
| Mind | 172 |
Offensive Properties
| | |
| --- | --- |
| Critical Hit Rate | 2009 |
| Determination | 1232 |
| Direct Hit Rate | 1831 |
Defensive Properties
| | |
| --- | --- |
| Defense | 4158 |
| Magic Defense | 4158 |
Physical Properties
| | |
| --- | --- |
| Attack Power | 3911 |
| Skill Speed | 1752 |
Mental Properties
| | |
| --- | --- |
| Attack Magic Potency | 207 |
| Healing Magic Potency | 172 |
| Spell Speed | 380 |
Role
LEVEL 80
Character Profile
Name: Mitsuha Fa River Song (Mitsuha Riversong in short)
Spouse: Frey Blackhaert
Main Job: Samurai
Title(s): Queen Mitsuha 1th of the Whosan tribe
Current home: Shirogane, Kugane

Born as daughter to Ka-l-y River and Futaba Song. Her nature is calm and kind but relentless to anyone who dares to hurt or threaten her friends. Her father was a highborn Hyur envoy from Gridania to Kugane and her mother an Vierra leader.

While traveling between Kugane and Gridania, River got ambushed by thieves and could not escape in time. Futaba saved Ka-l-y. While recovering from his wounds they fell in love. When the garlean army attacked their village their tribe had to flee.

Among the fleeing Vierra's was Mitsuha's closest friend. Frey Blackhaert. The tribe fled to the black shroud, where they founded a new village. Ka-l-y as envoy to the out-side of the village and Futaba as village leader. Together with a select wise man. Among them the father of Frey, Auron Blackhaert.

While Frey got invested in the Shroud's local and Ishgardian culture, Mitsuha remained interested in the eastern cultures. Frey trained to become a dark knight and bodyguard to Mitsuha. Mitsuha herself studied eastern culture, politics and trained with the katana besides her.

At the age of 18 Mitsuha and Frey took on the live of adventurers, because the thirst for adventure was too big.

On the 4th of November 2017 Mitsuha bonded for eternity with Frey Blackhart and took the name Mitsuha Duchess of Whosan.

At the 23rd of December 2017 was announced there would be a coronation on the 1th of January 2018. From that day Mitsuha Riversong Will be known as: Queen Mitsuha I of Whosan.

What brings the adventure next? Who knows? Who... knows.