Profile
Display Attributes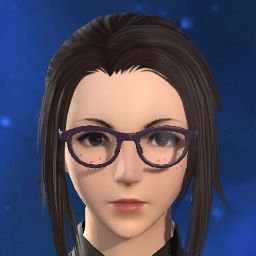 Race/Clan/Gender
Hyur
Midlander / ♀
Nameday
23rd Sun of the 4th Umbral Moon
Guardian
Azeyma, the Warden
Grand Company
Order of the Twin Adder / Serpent Captain
Attributes
| | |
| --- | --- |
| Strength | 353 |
| Dexterity | 2696 |
| Vitality | 2773 |
| Intelligence | 334 |
| Mind | 311 |
Offensive Properties
| | |
| --- | --- |
| Critical Hit Rate | 1737 |
| Determination | 1227 |
| Direct Hit Rate | 1647 |
Defensive Properties
| | |
| --- | --- |
| Defense | 2504 |
| Magic Defense | 2504 |
Physical Properties
| | |
| --- | --- |
| Attack Power | 2696 |
| Skill Speed | 828 |
Mental Properties
| | |
| --- | --- |
| Attack Magic Potency | 334 |
| Healing Magic Potency | 311 |
| Spell Speed | 400 |
Role
LEVEL 90
Character Profile
Current Age: 22

Amaterasu "Ammy" Lucifer arrived in Eorzea when she was 17 years old. Beforehand, she lived a wealthy life with her family in the Kingdom of Jameson. Growing up, Ammy had a love for archery and would practice whenever she could. Her parents wanted her to be a proper young lady to carry out their family's heritage. Ammy had been trained to sing and play various instruments at a young age, her father being more strict than her mother. After Ammy's sister, Scarlett Marena, got falsely accused of a crime, Ammy began to rebel more and secretly started to use her musical talents in her archery training.

When Ammy was 16, she fell in love with a boy named Matthew Ernest, getting engaged to him shortly after confessing. However, Ammy's father had put her into an arranged marriage with a stranger. Fearing for her life and freedom, she packed up her bow and ran away with Matthew to Eorzea. Ammy had heard of this place from Scarlett in a letter. When Ammy got to Eorzea, she found her sister along with her husband, Demetrius Lionheart. Ammy joined her sister's guild, Fairy Tail. She met an Elezen healer, Willice Silentread, who had arrived in Eorzea around the same time she did. Ammy and Willice decided to adventure together and with the Scions and grew close quickly through their adventures. Matthew noticed and tried to manipulate Ammy to leave Eorzea with him. She refused, calling him selfish and manipulative and called their engagement off. Later, Willice and Ammy confessed their feelings for one another and were soon married.

A few months later, Ammy and Willice decided to make their own Free Company with two of their closest friends, a female Au Rau named Lilian Fourshadow and a female Miq'ote named Ace Woodz. The four of them founded the guild, Heaven's Sanctuary. Sadly, Ace betrayed the guild shortly afterwards, leaving Eorzea never to be seen again. One of Lilian's friends came for a visit months later. His name was Rilos Fourshadow, an Elezen Black Mage. Rilos filled that empty hole and the group rebuilt. This was short lived as Ammy and Willice had a bad falling out and divorced. Willice left, leaving Ammy heartbroken. Rilos comforted Ammy in her time of need and their friendship grew. The two fell in love and got together and decided to rebrand the FC into a new home, changing the name to Midnight Moon.

After the rebrand, Rilos' personality changed for the worse. Ammy knew she had to get Willice back, so she ventured out to find him. She found him in Corethas and told him what was going on, apologizing for their falling out. The two forgave one another and when Ammy confronted Rilos on his actions, he accused her of false claims. Rilos left Eorzea afterwards and Ammy brought Willice back into the FC. They rekindled their friendship along with their love, getting back together shortly after. Since that day, Ammy has vowed to be the Warrior of Light everyone needs and to protect her loved ones and the people of Eorzea always.