Sing, Sing a Song
Hello all!
Fernehalwes here, back for my first developer's blog in...GAH! Has it really been that long!?
I thought that I'd have at least a few weeks to regain my bearings after a half-year blank, but it was less than a few days before FFXIV's master composer, Masayoshi Soken, was a-tap-tap-tapping at my door. You see, he needed lyrics for the latest primal diddy─a tribute to Ramuh, Lord of Levin. But that wasn't all. This time, we were going with a new Japanese vocalist, and she needed to be trained in the intricacies of that wonderfully crazy language we call English.
The recording was done over a period of five days or so, and I was asked to sit in to make sure everything on the lyrics side was being followed to a T. Being offered the a rare glimpse into the dirty underbelly of the Square Enix sound department, I used the opportunity to take a couple of blurry, underexposed photos.
Here's Soken-san gumming up 10 billion dollars worth of state-of-the-art recording equipment with his greasy fried-chicken-hands (retail value of state-of-the-art recording equipment not verified):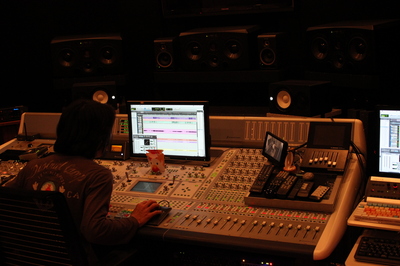 Here's Soken-san using his company PC to tweet about some cute girl wearing knee-high socks who he saw on his lunch hour: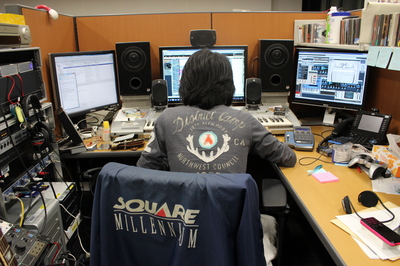 Now, I know this next shot looks like me sneaking up behind our beautiful vocalist, but that is in NO WAY the case. In NO WAY am I trying to steal a whiff of those adorable morning-dew-in-an-apple-orchard-scented auburn locks, or swipe a ball of fluffy-as-a-cloud-in-heaven lint from that finely crafted cardigan: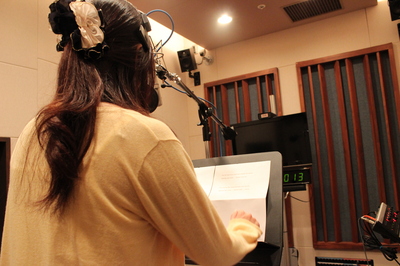 But seriously! One of the coolest things about my job is that, in addition to being part of the game-development process, I am blessed with opportunities like this one to work with truly talented people, whether they be chicken nugget-loving savants with sock fetishes (who also happen to be master songsmiths) or sweet-smelling songstresses (who also happen to be sweet-smelling songstresses).
Ah, but enough of the blathering. Let's get to the lyrics.
(The first stanza is written in Old High Sylphic, with an adapted Eorzean translation to the right)
Thunder Rolls
Ula menida tula oh (Hoary Arbor, Lord of Light)
Tela omnida tula ei (Thine advent quelleth creeping night)
Ona ramuhda deme os (The wicked burn, their pyres bright)
Nola tulama tela ei (Smote by Levin's blinding might)
Soul without a name, heed my call
Sin doth stain the hearts of us all
The worm hath burrowed deep and hath grown
Soon he too shall reap what is sown
Step into the storm, know its mercy
Let the wind and the rain crash down over thee
Lightning bright, thunder bold
Guiding us forevermore
Soul fallen from grace, ware thee well
Judgment thou must face, thine own hell
The worm stirreth within, black as night
Breeding deeper sin, foul its blight
Soul, thine end is nigh. Take mine hand
All life must return to the land
Lingered hath the worm, overlong
Purge thy flesh of fear and be strong
Step in from the storm, praise its mercy
Let the sting of the rain ne'er stray far from thee
Lightning bright, thunder bold
Freeing us forevermore
Now lift thine heavy head and vanquish thy sorrow
Lightning doth strike
Thunder doth roll
Now turn thy gaze ahead and look to the morrow
Lightning shall strike
Thunder shall roll on